As of today, you are able to buy raffle tickets for a chance to win one of 12 pieces of lyrics from Frank Turner's 'Get Better' video.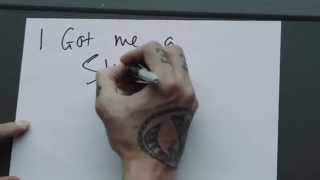 You can buy raffle tickets from Frank's label, Xtra Mile Recordings shop and funds raised from the raffle will be donated to the Joe Strummer Foundation in support of WAYout Arts, a charity who work with vulnerable young people and street youth in Freetown, Sierra Leone.
Specifically, we aim to purchase a 4 x 4 vehicle and mobile recording equipment for our return visit to Sierra Leone.
You can enter the raffle as many times as you like – if you purchase 12 tickets you will be entered 12 times!
The raffle will close at midnight UK time on 31st October 2018 and a winner will be drawn by 20th November 2018.
READ FULL UPDATE: Frank Turner and The Joe Strummer Foundation are heading back to Freetown, Sierra Leone!
We'd like to thank Frank Turner and everyone at Xtra Mile for putting this raffle together.
Good luck everyone!